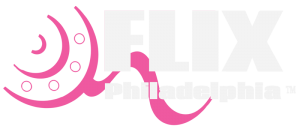 It was a good-and-bad kind of day.
GOOD: Enjoying dinner and dessert outside More Than Just Ice Cream with a festival friend.
BAD: Chris Christie emerging from More Than Just Ice Cream while we're eating.  Details are sketchy, but he was meeting with some Philly politico.  I hope the meeting when badly for both of them. If I were better connected, I'd have called ahead and had him greeted at the Delaware with a little Bridge Backup of his own.
BAD: I missed the showing of F(l)ag Football.  My dream of perfect attendance, even in this shortened festival, has been dashed.
GOOD: I got to talk about Jira and Spring and Hibernate and work/geek stuff with my festival friend while having a waffle covered in scoops of chocolate, chocolate peanut butter, and chocolate banana ice creams.
REVIEWS
Pride (4/5)
A comedic retelling of the strange bedfellows alliance formed in the mid eighties between striking Welsh minors and London gay activists has lots going for it: pacing, performances, writing, even the balance of comedy and drama to heighten both–AND a brief appearance by Russell Tovey and his adorable ears.. There are a few moments where it feels after-school special, but that's forgivable.
The Dark Place (1/5)
The crime/mystery format is a particularly unforgiving place for a plot lacking coherence or characters behaving believably or that telegraphs its punches; The Dark Place struggles with these things and more.  Non-metaphorical punches are a good example of this; the actors just can't sell it when they're "hitting" each other. Some interesting angles never get played, like building a convincing sense that the lead is slipping into insanity and may be hallucinating events or actually perpetrating them.
Campaign of Hate: Russia and Gay Propaganda (4/5)
After his love letter to Gay Israel last year, Michael Lucas returned with a new documentary that's more of a nastygram. Interviews with LGBT activists in Russia or who have fled Russia are uniformly good, but Lucas, king of a gay porn empire, interviewing Vitaly Milonav, the author of the gay propaganda law, borders on surreal.
Lucas attended and was as interesting and even grimmer in the Q&A afterwards. The film's subjects were by no means all rainbows and unicorns, but to Lucas's credit he documented what may be the small fantasies people in such dire straits must tell themselves without commenting against it. His closing thoughts included that gays in Russia are getting a breather right now while Russian turns it's Petty Hate Machine on Ukraine and that gay Russians are as caught up as any other Russian in the nationalist, anti-West frenzy that Putin's engineered.
Saugatuck Cures (2/5)
A weak third act and lighting problems hamstring this comedy that otherwise had interesting characters and heart.  I almost have a reason to watch glee in the adorable Max Alder who attended the screening. It might have done a little better if it had followed something less, well, Russian.