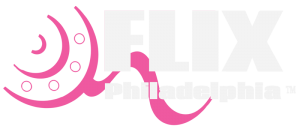 The third day got off to a late start. My daydream the day before about attending the 10am panel (and catered breakfast) gave way to real dreams and a late morning start. And by late morning on a weekend day I mean 1pm.  By the time I was festival ready, the schedule was against me with a musical and a documentary about a Gay Jesus play. Blech.
It's an unfortunate fact that fewer venues in a shorter festival makes being a badge-holder a little riskier. I'm still glad I did it that way because I can't imagine doing the individual ticket thing. Especially on days those "late morning" days I inevitably have during festivals.
One particular problem I have with the festival being back at the Prince is the horrible effect it has on my diet. Since the pantry's bare, I've had a hard time resisting Wendy's and Five Guys which are both less than a block from the theater.  And now it's even worse. There is a Popeye's a few doors down from the Staples on Chestnut. I particularly cannot resist the cinnamon-crusted deep-fried apple pies.  And resist I did not.
REVIEWS
Easy Abbey (2/5)
There are plenty of good moments around the lead character's romantic antics, but the over-crowded cast and odd bumps of women walking towards/past the camera made for a disconnected experience. — It turns out this is a web series edited into a movie, and what I didn't like about it–a lack of "movieness"–was never a goal of its original production. This seems to be problematic of the repurposing into feature film format. Short films made into features are completely reshot; is that going to be necessary to transition episodic new media as well?
Affinity (4/5)
This Philly-produced short played before Easy Abbey and is a great example of why I love short film, but I can't go into details because it depends on its deftly-handled twist. Scored local points for a scene at my beloved Race Street Pier Park.
Tiger Orange (5/5)
Despite some warning signs, Tiger Orange turned out to be an excellent old-school indie film about two estranged gay brothers reconciling.  One warning sign, a porn star in the cast, turned out to be one of the films best assets. Frankie Valenti (aka Johnny Hazzard) does bear his "assets" a few times, but also turns in a believable performance that may have benefited from a few similarities between him and his character. This is a well-constructed, understated film that kept my attention and kept me interested in its characters.
Age of Consent (2/5)
This documentary is a bit about The Hoist in London and a bit about LGBT rights in the UK. It had some interesting facts and some interesting men doing some interesting things, but overall it floundered. One thing that didn't work is the pornographic sequences filmed in the club playing beneath a Queens-English accented discussion of 500 years of British laws around buggery and immoral houses. Probably it's bigger problem is a lack of narration. While many of the interviews are good, the tend to ramble and could have been edited down with some minimal narration to summarize and contextualize.